Les Albums 2
1981 - ROCKING CHAIR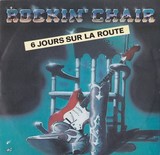 2007 - INTERDEPS
2009 - DE NASHVILLE A NOUMEA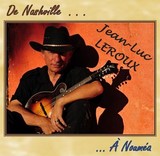 "From Nashville To Nouméa" is the title of Jean Luc Leroux's new CD. What started in Paris has now come full circle to Nashville. Jean Luc began playing music in the 70's with the arrival of the folk music revival. Studying in Paris, he discovered Bob Dylan, Joan Baez and spent much time in a music club in St Germain Des Prés, where some stars as Alain Bashung, Maxime Le Forestier, Marcel Dadi and Hughes Aufray were playing. He had a stroke of luck when he was invited to join them on stage, to much acclaim. This was made possible with the help of his friends Françoise Henaff and Gérard Vandestoke, who had already formed a band, and had recorded with Jean Luc only a few months earlier.
After experimenting with different musical styles, Jean-Luc discovered bluegrass music through an American vinyl LP owned At Gibert's , a Well Known Musical shop of Paris. He soon immersed himself in this style, and more specifically, the mandolin. He formed several bands, the first giving rise to the opportunity to play with Tony Rice and David Grisman in Normandy in France, at Courville Sur Eure. Later, he and best friend Gérard Vandestoke recorded a new album about trucking in French. He began teaching mandolin at Folk Quincampoix in Paris, where he regularly sponsored informal jam sessions. There he met Jean Marie Redon, the famous French banjoist, who proposed to Jean-Luc to record an instrumental album in which everybody contributed a song. This led to the album Banjo 82, released in the Spring of 1983.
He then embarked on an adventure which took nearly 10 years with the band Western Circus, co- founded with his friend Gérard. Most of the musicians were considered the most talented in France at the time. Western Circus enjoyed a good following with a varied list of songs including country, bluegrass, western swing and more, but nothing was ever recorded, unfortunately. From then on, Jean Luc recorded some session work on others' projects, never losing his love for the music.Fast forward to his life in New Caledonia in 1995. He played for a short while with Joe Chuvan and started a long period of musical abstinence, until his rediscovery with his old friends during a trip to Paris. There, his love for country music was awakened once again. He wondered if he could record a new album with his old friends in spite of the distance between them, as Jean Luc is in the south Pacific and Gerard and Françoise in France.
Then, the album INTERDEPS was recorded in January 2009 and released the same month. Jean Luc, again under the music evil, decided to go to Nashville to record his new album in French. Recorded at the historic Burns' Station Sound Studio near Nashville, the musicians' roster reads like a "who's who" of famous Nashville sidemen: bassist Bob Moore, (Elvis, Johnny Cash), fiddle icon Buddy Spicher, (Asleep at the Wheel, Ray Price) award-winning resonator guitar player Rob Ickes. Rounding out the ensemble are his friends Jean Marie Redon, Thierry Le Coq, and Francoise Henaff.
The album is dedicated to Jean Luc's life in New Caledonia. An infectious mix of reggae & Cajun-inspired rhythms, bluegrass, country and western swing, he penned most of the songs, and included some of his favorite American standards. "De Nashville à Nouméa" The story of a man …
2010 - COUNTRY LAGOON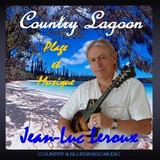 This album is once again recorded at the Burns Station Sounds Studio near Nashville, Tennessee, with fabulous Musicians. This Album, the third since 2007, follows 'Interdeps' & 'De Nashville à Nouméa' (nominated for the Musical Arrows 2010) and combines the musical colours of American acoustic country music with colours and local flavours of our Lagoon. It has 11 original songs, all composed and penned by Jean-Luc Leroux and each describing New Caledonia and its various Moods. Jean-Luc is currently preparing to present this album to the American audience and will be touring in the USA in June & July 2011, as well as being back on stage in New Caledonia soon. ( Album Registered to the Sacenc - Nouvelle Calédonie).
"Jean Luc Leroux, a Frenchman living in New Caledonia, traveled to Nashville to record Country Lagoon, a pleasant, Gallic take on country rock with strong swing and bluegrass influences. One has a hard time listening to Country Lagoon without a smile. The album concludes with a rousing, Dawg-inflected bluegrass romp powered by Jean-Luc's mandolin, Croquettes Danse. Most of Country Lagoon warmly reminds a listener of certain ago of the time when artists like the Eagles, Emmylou Harris, Sundance, and J.D. Crowe & the New South seemed to be erasing the barriers among bluegrass, swing, country, and rock."

Art Menius from CarBorro Art center , NC, USA
2011 - COUNTRY LOVE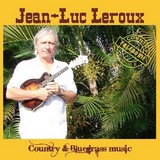 Recorded and mixed by Jono Manson, at the "Kitchen Sink Studio," in Santa Fe New Mexico, U.S.A., this fourth album introduces a new collection of titles written and composed by Jean-Luke Leroux. The New Caledonia Island composer takes you on a journey into his recent past, using his romantic imagination to create eleven country and bluegrass songs, written in French, using themes of love and emotion. Using muli-instrumentation, (mandolin, guitar, bass & harmonica), by Jean-Luc, along with other top notch musicians, "Caledonia Country Love" invites you on a trip into the
musical world of the author, where his sound imagination reveals tenderness, surprise and discovery. The mixture of American, Mexican & Caledonian takes you to the crossroads, beyond the borders of words and music…
2011 - HELPING HANDS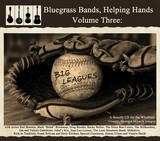 Un aimable participation avecv un titre " Spring Riff" dans cet album dédié aux joueurs de Basebal qui ont été blessés gravement aux mains lors de compétitions nationales et internationales aix USA ...
2012 - MA MANDO ET MOI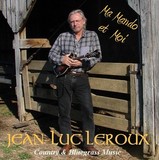 Again in the spotlight with a new album, produced in the midst of a U.S. tour, more specifically in North Carolina and Tennessee, Jean-Luc Leroux presents a new saga in his musical journey. A mixture of "anecdotes" and "Amores," romance and reality, these new songs and tunes all revolve around his first passion, the mandolin, which, in this album, is given all the power and attention it deserves. The melodies are enhanced thanks to the talents of musicians who make up the team and have known Jean-Luc long enough to blend into this musical landscape. Recorded in the most unusual studio in Nashville, but surely the best, this album has a very charming atmosphere that will certainly not leave you indifferent.
"This endearing Frenchman's bluegrass and country album reflects a unique and inspiring interpretation of music, full of fine mandolin picking, and sweet harmonies. The foreign language barrier adds to the intrigue and novelty of the album, making it a joy to listen to. Notable guests on the album include Mike Bub on bass, and Rob Ickes on Dobro, Guthrie Trapp on electric guitar, Matt Hooper on fiddle, and Butch Robins on banjo. Leroux is based in New Caledonia."

Taylor Coughlin From Ibma
2013 - VOYAGE ,AMOUR , ETC ...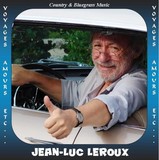 Jean Luc Leroux, petit Homme par la taille mais un Grand Homme d'expérience et de savoir... Globetrotteur en musique à ses débuts où il excelle par son talent hors pair...il renoue avec ses premières Amours et la Musique Internationale. Il est le seul Calédonien à enregistrer ses CD Country avec le concours des grands musiciens reconnus aux USA...Un parcours sans faute avec ce 6 ième Album … Joe Chuvan

First I want to say what a joy and honor it is when my friend, Jean-Luc Leroux comes to North Carolina. I am very honored to write liner notes for his new project. His vocal and mandolin sound excellent. This is a great album and I know everyone who listens to it will love it as I do. Carolina Rose.
2015 - SONGS ON THE ROAD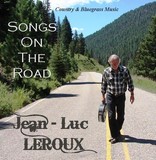 2017 - CALEDONIAN TRAVELER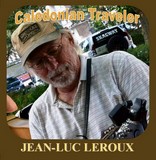 The rhythme tracks of this CD have been recorded in two different studios, one in Santa Fe, New Mexico, at Jono Manson's "Kitchen Sink", and the other one At Rick Ott's next to Nashville, Tennessee, USA. The other tracks have been recorded with my portable studio throughout my encounters and my desires. I would like to thank Orville Grant for the advice provided throughout the productions of this album, My Sweet Amy Ames who helped me with the lyrics in English and My dear Friend Doug Jefford for agreeing to incorporate and sing with me one Of his songs.
I dedicate this CD to all those who have helped me, from near and far, to overcome the trials of the past few months and who have shown me a part of the way I have to go ...

2019 - MANDOLOGIE
Pleased to finally announce an album dedicated solely to mandolin and acoustic instruments in Bluegrass music. Presenting 10 original tunes written by Jean-Luc Leroux created though out his travels in the USA and around the globe. Inside tab are 4 pieces amateur mandolin score sheets to pick along ...
"Jean Luc Leroux has been a pioneer of and ambassador for bluegrass in the French speaking world for 40 years. Starting out in France and now continuing from his home in New Caledonia he writes and records bluegrass music mostly in French that have a decidedly French aesthetic while at the same time managing to capture essential bluegrass feel and spirit. It has been my pleasure to meet him and have him as a friend and to have performed and recorded in numerous settings with him. I really enjoyed being a part of this new collection of songs and I believe you will too. "JEFF SCROGGINS

2020 - HIGHWAY USA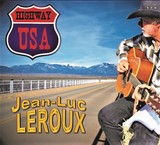 Jean-Luc LEROUX's new album "HIGHWAY USA", the eleventh, is a continuation of what he has already produced with new songs that he wrote this time in English. By crossing the world and the United States in all directions, and traversing these countries at the wind on highways and national roads, he was able to inherit many inspirations for new pieces talking about travel, love and trucks, but also of New Caledonia and long sleepless nights.
A new sound illustrates these pieces in line with Nitty Gritty, Poco, or even "West Coast" influences that hint of these modern and tropical melodies. Jean-Luc Leroux does not forget his bluegrass roots with two acoustic pieces to remind us of his musical origins.
The "Caledonian Traveler" takes us on the American highways for a little hour of country music in New Caledonian fashion.

2021 - CONFINAGE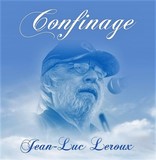 The album "Confinage" was recorded, mixed and mastered in the studios of JL Production by Jean -Luc Leroux. A big «thank you» to Jean-Marie Redon, Thierry Loyer, Sandrine Diaz, Stephane Missri for their friendly contribution as well as to all the musicians who participated in this album, not to mention Amy for her unwavering support. The pieces were created during the periods of confinement due to the Corona Virus which rotted our lives during the years 2020 and 2021 and which will leave indelible traces.